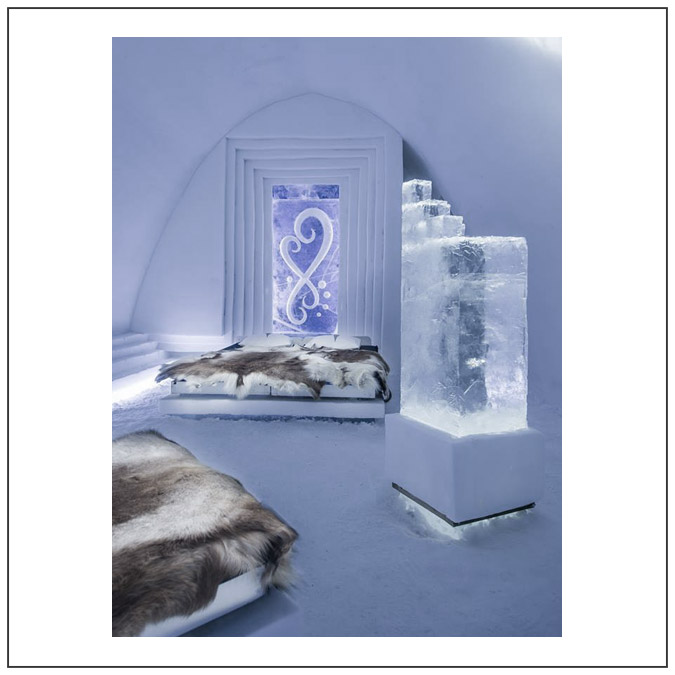 Infinitlove
Co-production with João Mota
2016, ice and snice
Icehotel Jukkasjärvi, Sweden
Photo: Asaf Kliger
Our project of "Infinitlove" was creating a suite for the Icehotel #27 in Jukkasjärvi, Lapponia, north of Sweden. The fascinating concept of this unique hotel is, that it is every year rebuilt by ice and snow in autumn and melting away in spring, flowing back to its origin, the Torne river.
Our idea for the suite starts from a geometrical fries running all around the space of the dome, moulding the frames of two large illuminated ice windows. A light line of transparent ice on the bottom of the fries creates the impression of the dome to be floating. A vertical element, a kind of a huge ice crystal, is completing our composition. Crystals are the perfect natural materialisation of geometry, and were always linked to spirituality, magic and a media to look to the future.
We want this suite to represent love and all its infinite realities. At ICEHOTEL anything and everything is possible. Infinitlove for different ideas was what allowed this project to materialize through friendship, cooperation and mutual respect.
Link: http://www.icehotel.com/